NEWS & PRESS
Expert Partner Conference - Brussels 2023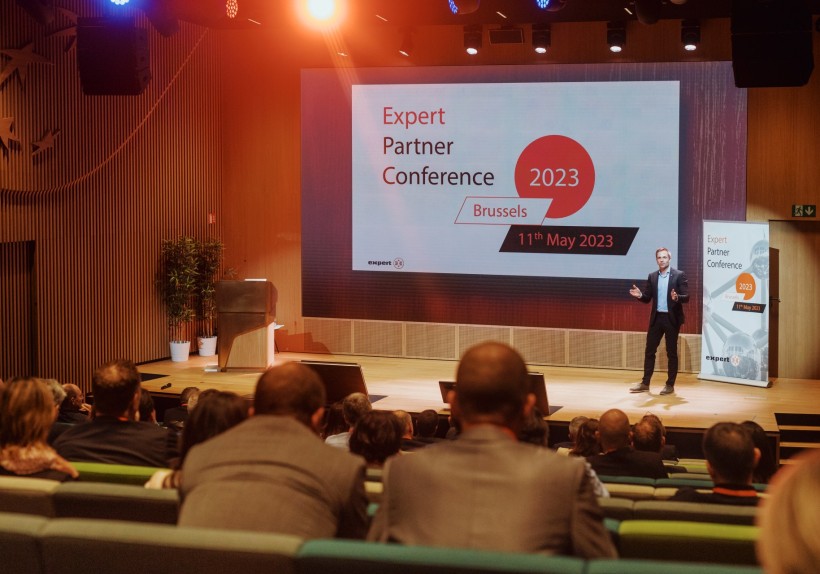 This month the Expert Partner Conference 2023, where we met and engaged with the Expert countries and key business partners to celebrate success and partnership, was held in the vibrant city of Brussels.
The Expert Partner Conference is where the top management of the Expert countries meets the European management from our key partners. Success is not built alone – but through partnerships. The event served as a platform to celebrate our shared achievements, foster stronger partnerships, and navigate the challenges posed by the current market conditions.
The Expert Partner Conference consists of a Conference with speakers aiming to inspire the further development of our partnership and give the base for further conversations. At the conference, participants among others had the opportunity to listen to an inspiring lecture by Richard van Hooijdonk, trendwatcher and futurist.
The conference was held in the BNP Paribas Fortis building in Brussels, which further emphasized sustainability as the main theme of this year's conference.
"The Expert Partner Conference is a platform for the members of the Expert Group and our key international suppliers and business partners to meet, exchange and strengthen our relationship. The focus of this year's conference was sustainability, and the highly sustainable BNP Paribas Fortis building in Brussels was a great location to present our group sustainability vision of "a world where people are enabled to live well in thriving communities on a healthy planet".
The vision sets a clear direction for us as a group and how we will work to make sure that we increase our positive impact and decrease any negative impact on our surroundings", highlighted Jens Stroemnes, Managing Director at Expert International.
The second part of the Expert Partner Conference was a gala dinner held in the beautiful Vaudeville Theatre. This historic theatre has a legendary place in Brussels life and provided a great opportunity to network and celebrate.
"With lots to talk about after the conference presentations, the Vaudeville Theatre with Filip Jordens singing Jacques Brel gave all the participants a taste of Belgium and was a great venue to socialize and spend a nice evening together", says Jens Stroemnes, Managing Director at Expert International.
Spending time together to invest in relationships, build new relationships, exchange and build understanding is always valuable and important – but maybe especially so when market conditions are challenging and we have to work well together to ensure that we are all successful.
A big thank you to Olivier Lanckriet, a member of the Board at Expert International, and his team at Connect+, our partner from Belgium, for being such great hosts!