NEWS & PRESS
expert SE introduces expert Family Entertainment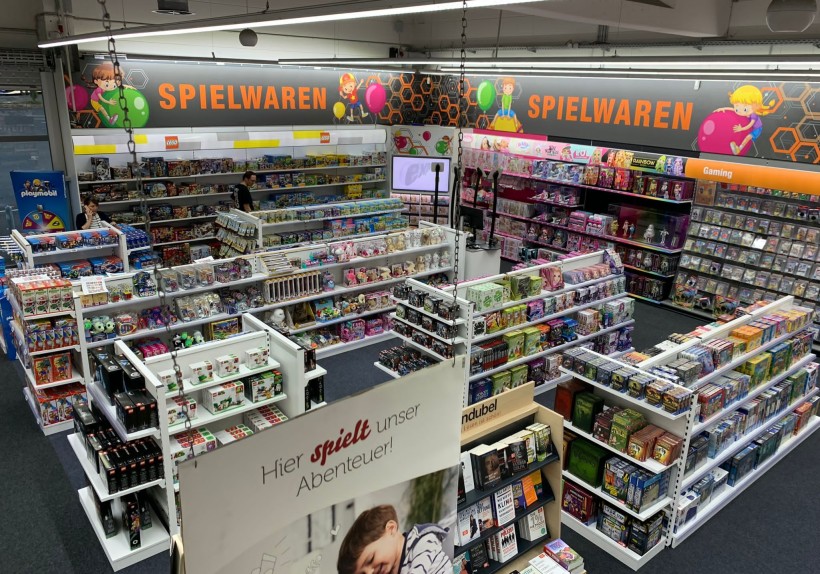 expert SE, our partner from Germany, introduced the new area and shopfitting concept called "expert Family Entertainment", specialist shops and specialist markets that are becoming a world of experience for the whole family.
In a transformation process, expert SE transformed its classic entertainment range, which consisted of the film, music and gaming product groups, into the new family entertainment where customers can expect electronic and non-electronic entertainment products for every age group. The new product range is presented in the locations with an attractive shop design concept.
The expert family entertainment consists of four product ranges: The KIDS WORLD area includes, for example, the popular Tonies and other radio plays, and since 2020 expert has also been offering a selected range of books at participating locations in cooperation with Hugendubel. In the film and music focus range , customers will find the current bestsellers as well as selected highlights from the CD, Blu-ray and DVD sectors. Toys make up the fourth pillar . Here, expert works together with well-known manufacturers such as Lego, Playmobil, Schleich and Carrera. The addition of merchandise items suitable for the target group is also being prepared and will round off the range accordingly.
The implementation of the family entertainment concept in around 200 expert SE specialty stores and markets is planned by Easter 2023. The concept has already been implemented at around half of the planned locations. The rollout will also be accompanied by a national marketing campaign in 2023.
Positive customer reaction and strong demand for physical products
"With our family entertainment concept, we accompany our customers along the entire customer journey – from the three-year-old child choosing his favorite Tonies to the Teenagers who want a new smartphone, young adults who buy their first washing machine, through to regular customers who find electronic products for every need at expert. At the same time, in a changing market environment, we are tapping into the family as a new target group and positioning ourselves as a reliable contact in the neighborhood", said Michael Peters, Group Manager Consumer Electronics at expert SE.
Frank Harder, board member responsible for sales, marketing and e-commerce at expert SE, added: "Even in the first few months after the start of the rollout, it became apparent that the family entertainment concept in combination with shopping as an experience is an absolute attraction. Because with the sale of products for 'leisure time' and due to the regular innovations, the frequency at the point of sale increases. In addition, the physical products are an alternative to digital consumption, which is currently in high demand. In addition, the e-mobility area is a sensible addition to the range, which we are constantly developing further."