NEWS & PRESS
PEVEX started with the implementation of project "Support the Ukrainians"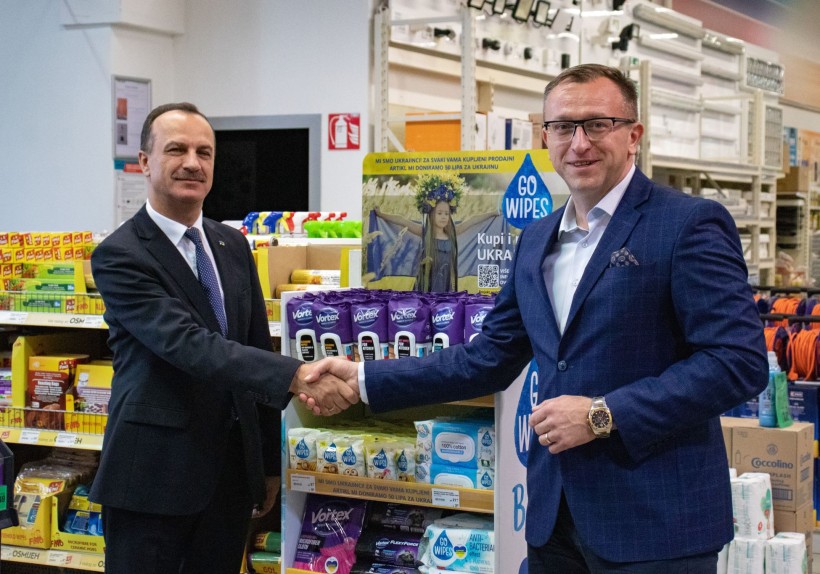 As a part of the laudable project "Support the Ukrainians", Krešimir Bubalo, CEO of PEVEX, our partner from Croatia, and his associates hosted the ambassador of Ukraine, Mr. Kyrylyč, the embassy adviser, Mr. Goropah and the representatives of the Biosphere Corporation, Mr. Perlok and Mr. Pros.
The occasion of this visit was the implementation of the humanitarian project "Support the Ukrainians" in cooperation with the Ukrainian company Biosphere Corporation under sponsorship of the Embassy of Ukraine in the Republic of Croatia and UNICEF.
The project "Support the Ukrainians" was launched at the initiative of Biosphere Corporation, the largest Ukrainian manufacturer and distributor of household and hygiene products, and since mid-July it has been implemented by PEVEX sales centers where special shelves of Biosphere Corporation with Ukrainian products are located. The purchase of each product then donates 50 lipas directly to UNICEF for the purchase of a set of hygiene supplies to families in Ukraine
We are proud that our shelves contain the products of the largest Ukrainian manufacturer of household and hygiene items and that we have the opportunity to support Ukrainian families in these tragic and challenging times through the support of Ukrainian manufacturers and the economy.
In addition to the fact that Biosphere Corporation products are sustainable, they minimize the harmful impact on the environment and make everyday life simpler, they also have noble value because for each product purchased, part of it is donated to Ukrainian families which makes us especially happy, said CEO of PEVEX.
During the visit, the development of business cooperation between PEVEX and other Ukrainian companies was also announced.